The French capital is one that has been drawing visitors for centuries. From its wonderful historic monuments to its exceptional cuisine, it is a destination unlike any other. Wander in and out of museums, cafes, farmers markets, beautiful gardens and enjoy the romance of the city. This ultimate Paris travel guide will help you plan an unforgettable trip!
WHAT TO EXPECT IN PARIS
Language
: While some people may speak English or other European languages, French is by far the most spoken language in the city.
Currency
: The Euro is the currency throughout France and in many other European countries.
Credit Cards and Banks
: All tourist areas will have ATMs with most hotels and restaurants accepting credit cards, although it is wise to carry some cash as small retailers may not take cards.
You'll find that cafes and shops are more expensive the closer they are to the main attractions such as the Eiffel Tower and the Arc de Triumph. Walk a few blocks from the main areas to find more authentic and less expensive establishments!
Climate
: The weather in Paris is generally quite mild for most of the year, with a reasonable amount of rain throughout the year.
Cold season: Daytime temperatures between November and February rarely get above ten degrees Celsius, but seeing Paris in the snow can add a whole new dimension to this lovely city.
Hot season: July and August are usually the hottest months in Paris.
GETTING AROUND IN PARIS
Paris is separated into twenty arrondissements; each offering a unique flavor of the city! The most popular communities worth visiting are:
Le Marais:
Located in the third and fourth arrondissement, this area of Paris has long been where aristocrats have lived. It now has a vibrant Jewish community along with some of the city's best hotels and art galleries.
1

st

Arrondissement:
Home to many of the city's main sights including the Royal Palace and the Louvre, this is usually the starting point for those visiting Paris for the first time.
8

th

Arrondissement:
A popular area of the city that is home to several impressive palaces, along with the Arc de Triomphe and the Champs-Elysees.
11

th

Arrondissement
: This area is a popular part of the city for those looking to enjoy the nightlife. There's a good range of restaurants to enjoy, plus it's home to the Edith Piaf Museum.
La Defense
: On the edge of the city, this part of Paris has some wonderful modern art displayed and architecture. This is also one of the city's main business areas.
WHERE TO STAY
WHERE TO EAT
WHAT TO DO
GUY SAVOY
Having achieved three Michelin stars
Guy Savoy
certainly has a reputation to uphold,
and with excellent innovative
food in a small welcoming dining room,
it is definitely a special culinary experience.
LE BOUILLON CHARTIER
Having served food from its Montmartre
location for over a century,
Bouillon Chartier
is a great place for those looking for
a well priced taste of French cuisine.
They have fast service and all of the
most famous French dishes on the menu.
CAFE DE FLORE IN THE 6TH
This icon of Parisian culture has changed
very little since it was first fitted with its beautiful.
Art Deco interior. It has been a favorite haunt of
many celebrities both for its coffee and great food.
A great place to see the wealthy of Paris go by!
RENOMA CAFE
This stylish and modern venue has both
a restaurant and bar, with truly wonderful food,
a great cocktail selection and an atmosphere
that stands out with American themed interior.
LE CAMION QUI FUME
The best place in the city for those with a yearning for an American style burger. They serve beautifully cooked burgers and great fries!
Be Aware:
This is a food truck (Paris' first)
and its reputation means it can have quite a wait.
LES TABLETTES
In the west of the city, the chef Jean Louis
Nomicos offers great value for high quality food.
They have reasonably priced lunch options
and a great set of menus that
include wine with the price.
L'ATELIER DE JOEL ROBUCHON
For top quality French cuisine,
this restaurant is hard to beat.
The seasonal dishes make the use.
of top quality produce sourced
from across France and beyond.
LOUVRE
Most famous for being the home of Da Vinci's
masterpiece the 'Mona Lisa',
the Louvre is one
of the most impressive
museums in Europe.
Check the spectacular
collection
of art and sculptures.
I
f you want more insight into the famous artworks,
you can sign up for a
guided tour
of the museum.
SIGN UP FOR A WALKING TOUR
This is a great way to see the main sights
of the city in a couple of hours.
Book a walking tour
with local guides and
get an insight into
the city's history, culture,
and architecture.
They work for tips and
offer some great insights
into the attractions
of the city.
SEE THE EIFFEL TOWER
Built for the 1889 World Fair, this iron tower stands at
324 meters tall, and while there is a cost for going up to the
viewing platform, the views back over the city from this
landmark are truly impressive.
You can also admire this landmark from the nearby
parks which are great places for a picnic!
NOTRE DAME
This iconic cathedral is one of Paris' most distinctive landmarks,
and while it may not currently have a hunchback,
it is an amazing example of French Gothic
architecture that has been at the heart of religious life
in the country ever since it was completed in 1345.
PARIS MUSEUM PASS
While all visitors to Paris can explore the city's museums
for free on the first Sunday of the month,
this pass provides access to over sixty museums
for two, four or six consecutive days, and is great value.
FRIDAY NIGHT ROLLER SKATING
Every Friday night, locals meet up for a roller
skating tour through the city called Pari Roller.
It's the world's biggest weekly street skating event.
CHAMPS ELYSEES
This busy street is lined with trees on both sides
and is a spectacular way to approach the Arc de Triomphe.
It's also a wonderful shopping and dining street
and is home to the climax of the annual
Tour de France cycling race.
It is a true sight to behold.
RENT A BIKE WITH THE VÉLIB' BIKE RENTAL SYSTEM
Paris is surprisingly bicycle friendly
and renting a bike is a wonderful
way to explore the city. While short rides of up
to half an hour are free, even renting
a bike for up to two hours is a great value.
PARIS UNDERGROUND STREET ART TOUR
While the city is most famous for its classical art,
a vibrant street art scene is also present.
This tour provides a great introduction
to the artists that operate around the
city and some of their
most distinctive pieces.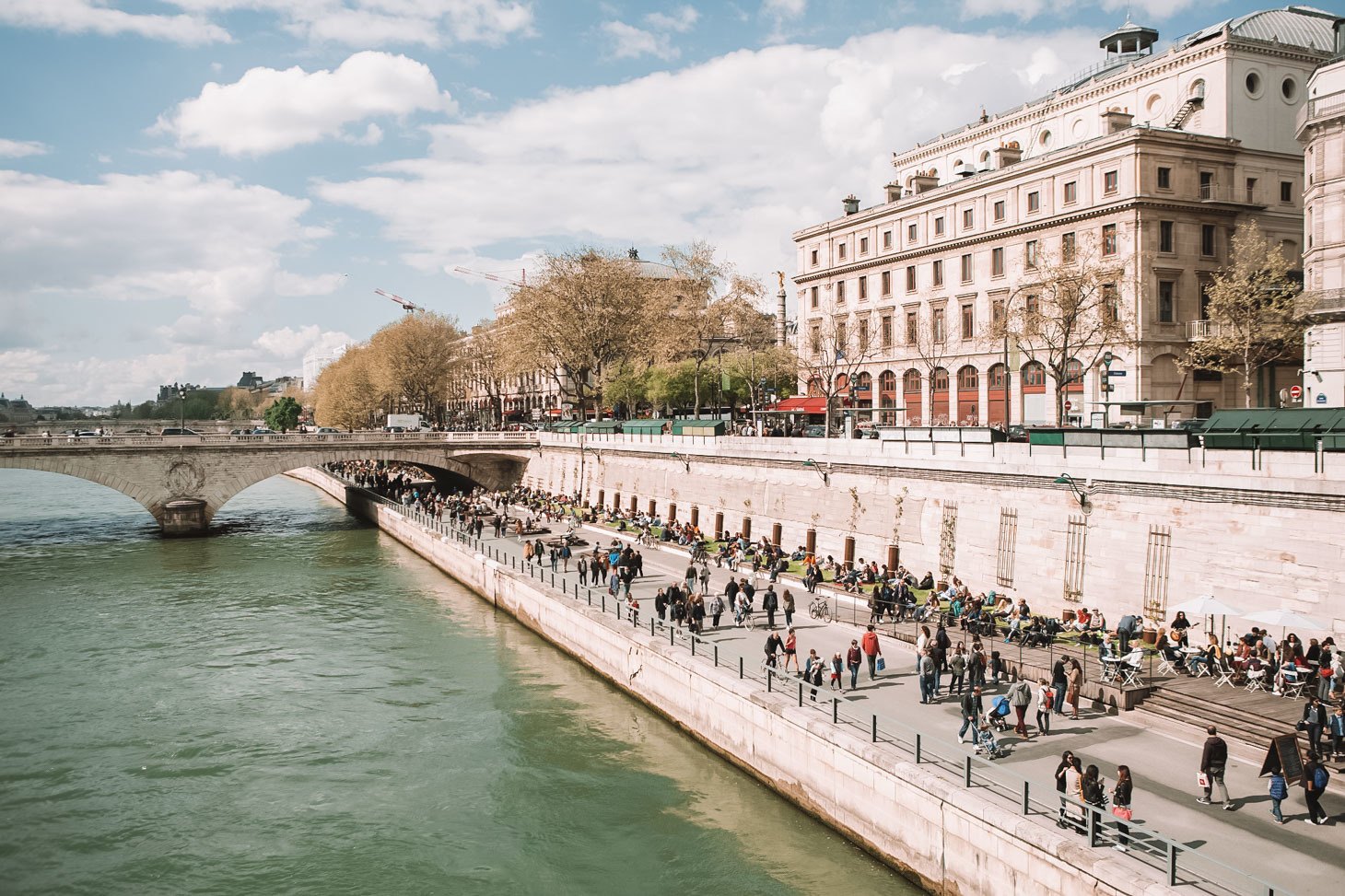 PACK A PICNIC AND SIT BY THE SEINE
The Seine is a romantic river that
winds its way through the city.
Making a picnic and enjoying a nice spring
or summer afternoon by
the Seine is a great way to enjoy the city
and to watch the locals go about their daily lives.
MEET LOCALS WITH PARIS GREETERS
With no fixed schedules or itineraries, meeting a
Paris Greeter is a great way to take a look
at the city through the eyes of a local.
It is also staffed by volunteers meaning
they are genuinely enthusiastic about showing off the city.
SEE THE CATACOMBS
Having once served as stone mines for the city,
the tunnels beneath much of the south
of Paris are home to the remains
of over six million people.
The tour takes visitors through
two kilometers of these tunnels.
BOOK A TOUR WITH TAKE WALKS
To make the most out of your time,
I'd highly recommend
joining a Take Walks tour

!
Find the one that speaks to you!
I've been on tours with.
Take Walks all around the
world and am always so intrigued by
what they have to offer—
plus it's a great way to see
the city in a whole new light!